Barind Medical College and Hospital
About MBBS Program in Barind Medical College and Hospital
Incorporated Year: 2011
The medium of Teaching: English
MBBS Degree valid in India
Teacher Student ratio is 1:5
Admission in Barind Medical College (BMC) Bangladesh Contact Smile Education Officially Authorized Admission Information Center.
National Medical Commission of India (NMC formerly MCI) Approved Medical College in Bangladesh Lowest fees best for Indian Medical Aspirants.
Barind Medical College MBBS Admission Process
COLLEGE AFFILIATION AND RECOGNITION:
Affiliated by Rajshahi Medical University (R.U)
Director General Health Service (DGHS) Bangladesh
National Medical Commission of India (NMC)
Approved by the Ministry of Health and Family Welfare, Govt. of the Peoples Republic of Bangladesh
Accredited by Bangladesh Medical and Dental Council (BM&DC)
Enlisted in World Directory of Medical School, World Federation for Medical 

https://search.wdoms.org/home/SchoolDetail/F0003457

Education (WPME) and Foundation for Advancement of International Medical
Medical Education and Research (FAIMER), formerly by the World Health Organization.
Rajshahi Medical University World Ranking
https://www.webometrics.info/en/detalles/rmu.edu.bd
| World Ranking | Continental Ranking | Country Rank | Impact | Openness | Excellence |
| --- | --- | --- | --- | --- | --- |
| 16020 | 6500 | 87 | 21519 | 5963 | 5999 |
Visit Here for Barind Medical College Fees Details
Transportation from India:
Indian Students can avail of Train or Bus directly from India-Bangladesh Border
Medical Students from Malda, Murshidabad, Baharampur, Balurghat, Siliguri nearest medical college in Bangladesh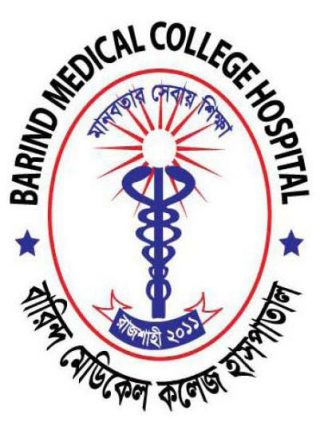 Barind Medical College Infrastructure:
Total Campus is 3 acres (approx.) with Academic And Hospital floor space 1,70,000 sq. ft. (approx.).
Course offered to Indian Students:
MBBS Course duration is 5 years in a four-phase and one-year Internship.
Every year the total number of students enrolled: 100 (hundred)
A total number of students: 444 including 87 (Eighty-seven) foreign students.
Total Numbers of Faculty members: 90, among them Professors 27, Associate
Professor 14 and Assistant Professor 12, Lecturer 37.
Teacher Student ratio is 1:5
BMCH publishes a journal biannually named Barind Medical College Journal (BMCJ)
Located at Rajshahi, the educational city of Bangladesh 252 km North-West of Dhaka, the capital of Bangladesh, Travel time from Dhaka by
Air- 35 minutes
Road- 4 hours 30 minutes
Rail- 5 hours 30 minutes
All documentation processing, Admission Letter VISA contact Smile Education Official Authorised Bangladesh MCI Approved in Bangladesh Lowest fees best for Indian Students
Admission into MBBS course in Barind MC Bangladesh Contact
Smile Education (Officially Authorized Admission Information Center)
Admission Helpline 9903-033-033
Office Address: [Old] 4, Santoshpur Lake West Road
Arambagh Food Mart Building (3rd Floor)
(Near Santoshpur Lake Shiv Mandir)
Jadavpur, Kolkata, West Bengal 700 075
Office Address: [NEW]
B-265, Survey Park Santoshpur (1st Floor)
(Near Kishore Bharati Stadium, Survey Park Kali Mandir)
Jadavpur, Kolkata, West Bengal 700 075
Landline (033) 7965 8170
Call: (+91)-91633-22022
Mobile: 903864-3838, 983126-3838, 988312-3838
Email: info {@} mbbsbangladesh {dot} com
Barind Medical College Authorization 2020
Download Barind Medical College Authorization Letter 2020
Also, See:
Medical Colleges in Bangladesh
MBBS Fees in Bangladesh for Indian Students