Must Read FAQ Frequently Asked Questions for MBBS in Bangladesh for Indian Students 
FAQs Frequently Asked Questions for MBBS in Bangladesh for Indian Students
Most Asked Question About Studying in Bangladesh
FAQ Frequently Asked Questions for MBBS in Bangladesh for Indian Students
International Students FAQs Frequently Asked Questions for MBBS in Bangladesh
Undergraduate (UG) Medical Admissions in Bangladesh all queries in one place.
Best Government University in Bangladesh Admission
FAQ Frequently Asked Questions for MBBS in Bangladesh
You must read FAQ Frequently Asked Questions for MBBS in Bangladesh before enrolling MBBS Program in Bangladesh. As well as you must research from Google, Wikipedia, NBE, NMC, NTA, CBSE, Facebook, Quora, Yahoo, and other reliable online Web sources.
FAQ (Frequently Asked Questions) about MBBS in Bangladesh
Most Asked Queries About MBBS in Bangladesh
FAQ (Frequently Asked Questions)
Q: When MBBS Admission in Bangladesh will Start?

Ans: Indian medical aspirants are advised to apply for the First-year MBBS program in Bangladesh after NEET-UG Result. The M.B.B.S admission process in Bangladeshi medical university with valid NEET score-card and must fulfill all eligibility criteria. Before applying check your GPA online.
Q: Is NEET required to Study MBBS Abroad?
Yes, NEET is mandatory to study MBBS Abroad. NEET qualifying score required for MCI /NMC Equivalent Certificate, From Session 2022-23
Q: NEET-UG result valid for how many years to apply for MBBS Abroad?
Ans:: NEET-UG score valid for Three (3) Years for MBBS Abroad. Consider if you Passout Class 12th in 2020 that same year you cleared NEET with a qualifying score, you can apply for MBBS Bangladesh current year 2022.
Q: In which country we can study MBBS without NEET?
Non, If you found any website written "MBBS with out NEET Possible" which is a Big Scam. Without NEET-UG you cannot study MBBS Abroad. For more information do visit National Medical Commission (NMC) visit https://www.nmc.org.in/information-desk/for-students-to-study-in-abroad
Q: Is Neet compulsory for MBBS in Abroad 2022?
Thus, in session 2022, the NEET mandate to Study MBBS in Abroad. NEET will be mandatory for every aspirant dreaming of becoming a Doctor. Students who went abroad in 2022 to study for MBBS or equivalent degree has to take an eligibility certificate from NMC whether they qualified NEET.
Q: How much NEET Score required to Apply Study MBBS Abroad

| Category | NEET Cut off percentile | NEET cutoff scores |
| --- | --- | --- |
| General | 50th | 715-117 |
| General-PH | 45th | 116-105 |
| SC/ST/OBC | 40th |   116-93 |
| SC/ST/OBC-PH | 40th | 104-93 |
FAQ:: Which country is best for MBBS Abroad?
Bangladesh, with the highest Foreign Medical Graduates Examination (FMGE) passing percentage, was registered from Bangladesh with 36.70%
Q: What is the MBBS course duration in Bangladesh?
 Duration is Five 5 years of Full-time MBBS Programs. and one year is an internship (which can be done in India).
Q: Is NEET required to Study Medical in Bangladesh?
NEET qualifying score required for NMC/MCI Equivalent Certificate, From Session 2022-2023 NEET is mandatory to study MBBS in Bangladesh. Without NEET Qualified you cannot get admission to an MBBS degree from Bangladesh.
FAQ:: How is the quality of Medical Education in Bangladesh?
Study pattern the same as India. MBBS In Bangladesh follows the same Indian Curriculum, Medium of Instruction English.

Also, follow the same Indian Author Books.

An extra advantage of doing Medical studies in Bangladesh is enormous clinical expose, treating real patients in the hospital, the scope of practical knowledge huge.
Q: What is the eligibility to Study MBBS in Bangladesh session 2022?
Class 12th Pass year should be 2022 or 2021 only. With 60% or more in Biology. Class 10th And 12th minimum GPA 7,  To Study MBBS in Bangladesh you have to meet the NMC eligibility which is 60% in Physics, Chemistry, and Biology average and pass in English in Class 12 and minimum 17 years of age on December 31 of the year of Admission.

Besides, the University in Bangladesh may have a HIGHER cut-off than specified by NMC. So read the requirement of the University in addition to the NMC requirement.
FAQ:: What is the FMGE or MCI / NMC Screening Test? How many times can I give a Screening Test?
After you finish MBBS from Bangladesh, Indian doctors opt for FMGE. When finishing up 5 years MBBS Degree program from Bangladesh back to India you have to sit for a competency test popularly known as the MCI/NMC Screening Test.

The official name or full-form of  FMGE is the Foreign Medical Graduate Examination conducted by the National Board of Examination (NBE).

Bangladesh MBBS Degree popular due to the high percentage of passing FMGE/NEXT (MCI/NMC Screening Test).

The highest pass-out turns over in the first attempt generally students clear FMGE. If you pass FMGE you can easily rank in NEET-PG in India for applying for postgraduate medical programs. The MCI/NMC does not conduct the test. National Board of Examination (NBE) conducting FMGE, which is much similar to NEET-PG clinical orientated. If you fail in the first attempt then you'll get an unlimited chance to clear FMGE, there is NO LIMIT on the number of attempts in the FMGE/NEXT test. If you've studied medicine properly in your college then you will pass the MCI test easily on the first attempt.
Q: Will my MBBS Degree be recognized in India and overseas?
Yes. The MBBS degree from Bangladesh is recognized by the MCI/NMC in India, You'll get state medical councils registration once you crack FMGE.

MBBS degree is also recognized by other countries overseas. Each country has a process for recognizing a foreign medical degree. You have to follow that process. Usually, each country needs you to give a competency examination such as the USMLE for the USA. So you have to find out the process in each country and comply with it.
FAQ: Where can I do my internship after finishing my MBBS in Bangladesh?
After completion of 5 years MBBS program from Bangladesh, You can apply your internship or clerkship in India or continue in Bangladesh.

To apply for the internship in India, you need to clear your FMGE/NEXT (MCI/NMC Screening Test) you can apply for a one-year internship in any Govt. or Private run Medical Hospital or Institutes in India. You'll get a stipend during an internship in Bangladesh. Smile Education advises doing an internship in India after completion of Five years of MBBS from Bangladesh.
Q: How to pay Medical College Fees? What is the Mode of Payment and in what currency?
Study Fees for the Medical College in Bangladesh have to payable in US$ thru Forex TT. Ask your local Forex enable bank. Bank will arrange to transfer college fees to respective med colleges. Must have passport and college admission letters to pay college fees.  All monetary transactions from parents/guardian banks to college account.

You can take cash money to Bangladesh in the form of US$ (Dollar). You can legally carry up to US$ 3000 cash Dollars, and US$ 20000 Dollars as traveler's cheques. Take a receipt copy for the Cash Dollar you are carrying for the customs authorities. You can transfer some fees to the University by way of a Bank or SWIFT transfer. Read the relevant advice.
FAQ: What is the Total Expense including hostel and food?
Fees Calculator will give you the nearest idea of total expenditures in tenure 5 years complete MBBS program from Bangladesh. Total expenses which include Monthly Food Bill and Hostel Rent if any, Total Medical College Packages. Please refer to the Fees Calculator page.
Q: What are the mode of travel, cost, and time of travel to Bangladesh?
Generally, Medical Students Travel By Air, Train, or Bus from India to Bangladesh. Most major cities of India are connected to the Capital City of Bangladesh Dhaka by air. The time taken for travel is usually within one day – dependent on the planning.
Book Ticket Online From online or offline
Airtime: to Bangladesh City
40 min From Kolkata (Calcutta) to Dhaka Fare Starting from Rs 3,370 (Spice Airlines)
55 min From Kolkata (Calcutta) to Chittagong Fare Starting from Rs 5,800 (Regent Airlines)
2h 10m ( Non-Stop ) Delhi to Dhaka Starting Fare Rs 5,035
5:40 hr (With one Stop) 6:45 hr (With one Stop) Chennai to Dhaka Starting Fare Rs.5,994
Train:
Kolkata to Bangladesh Bandhan Express Every Thursday 7:10 AM Kolkata to Khulna (13129 Travel Time: 4h 49m 2 halts Distance: 172 km)
Maitree Express Every Week Tuesday, Friday 7:10 AM – Kolkata to Dhaka (13109 Travel Time: 8h 25m 2 halts Distance: 393 km )
Q: What to eat in Bangladesh? What food habits during MBBS Study in Bangladesh?
The food of Bangladesh has much in common with the food of neighboring India, common food habits towards Rice, Dal, fish. Chapati/Nun, Vegetables, and Egg. Most of the Medical Colleges in Bangladesh have canteens where reasonably priced food is available. All Hostels usually have a mess system managed by students themself.
FAQ:  "What is the dress code in Bangladesh for the MBBS course?
Ans: There is no such dress code. Should wear formal dresses (No Jeans in the classroom) and you have to wear white aprons.
Q: Is MBBS in Bangladesh expensive?
Ans: No. Bangladesh is cheaper than any Private Medical college in India or Nepal. Even it's cheaper than Ukraine, the Philippines, China, and Russia due to no hidden expenses. Overall 5-year cost is cheaper than the mentioned countries, due to low travel costs, affordable accommodation, and food cost, living costs cheapest.
Q: How many times can I come home in a year?
Ans: There are two major vacations both in Eids (Eid al-Fitr and Eid al-Adha). And after each University Professional Exam, you'll get a long break. So you can come back twice a year. You can spend time with your family on 20-25 days of holidays during Eid al-Fitr and 10-15 days on Eid al-Adha.
Q: How is the Weather and Temperature in Bangladesh?
Ans: The Bangladesh weather is very similar to India. Not too cold nor too hot. Tropical Climate like the Indian subcontinent.
Q: Do I have to learn Bengali?
Ans: Not required, prior Bengali knowledge is not needed. Yes. Don't worry about it. Medical Education will be taught in English Language and local citizens are experts in Hindi too.
Q: How do I get my visa?
Ans: Smile Education Consultancy (SEC) India will process all MBBS admission formalities including your Student VISA
Q: How did my Parents/Guardians get Bangladesh visas?
Ans: To visit Bangladesh you need VISA, Smile Education Consultancy arranges parents' VISA on Demand. Parents/Guardians will get a 30 days tourist visa.
Q: How to apply and where to get Education Loan or Study Load for MBBS in Bangladesh?
Ans: You can apply for a Study Loan from any Bank. Under RBI guidelines Banks can give up to 15-20 lakh for higher education to study Medical Abroad. Banks look at parents' assets,  income, security, college admission letter, NMC/MCI Eligibility, affiliation certificates, and mark sheet before granting a loan. You have to pay the first-year installment rest amount you will get as an education loan.
Question: What is the currency of Bangladesh?
Ans:  Bangladeshi TAKA. Currency conversion Indian Rupees to US Dollars or Indian Rupees to Bangladeshi Taka. Real-time currency converter
FreeCurrencyRates.com
Q: Can I work while I am studying in Bangladesh?
Ans: No. You cannot work. You are on a student visa. And for the medical study, you'll not get extra time to work. So doing work on a student visa will be a bad idea.
Q: Can I get a job when I come back to India in the Private or Government Sector?
Ans: Yes. You'll get a job in India in the private or Government hospitals or medical institutes or healthcare sectors. After returning to India, you need to clear the MCI screening licensing exam which is called FMGE.
Q: Can I do Post Graduate (PG) Medical like MD or MS in Bangladesh or India after my MBBS?
Ans: Yes you can do Post Graduate (PG) Medical in India after MBBS from Bangladesh. You need to appear in NEET-PG to secure MD or MS Seat in India. You are eligible after completion of 5 years of MBBS in Bangladesh, once you get State Medical council Registration after the MCI screening test (FMGE) in India.
Q: How is the Relation between India and Bangladesh?
Ans: Relation between two countries Self Explanatory from the following photo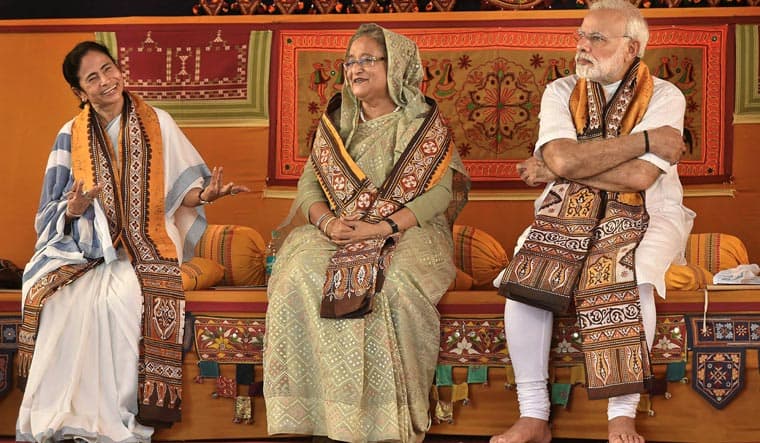 Prime Minister Narendra Modi with his Bangladesh P.M Sheikh Hasina and West Bengal Chief Minister Mamata Banerjee at the Visva-Bharati University convocation Dt 25 May 2018. Photo Courtesy – PTI
Q: How many Indians are studying in Bangladesh?
Ans: Every year more than 1250+ Indian students enrolled in the 1st year MBBS Degree program in Bangladesh. Exact data can be obtained from the Bangladesh embassies in India. There are over 7000+ Indians studying MBBS in Bangladesh. Each year about 1250 Indian students go to Bangladesh for MBBS and the number is increasing every year.
Q: Is Smile Education an agent?
Ans: No, we are not agents like others. Smile Education officially direct represents top medical colleges in Bangladesh. Smile Education Consultancy has only facilitated Indian Medical aspirants to top Bangladesh MBBS Colleges and promoting medical education in Bangladesh since 2011. Smile Education doesn't do other countries any type of admission.
Question: What is the admission process?
Ans: Admission process you have to contact Smile Education head office in Kolkata.
Question: What is the Abbreviation (Full form) of the following terms:
Ans:
FAQ = Frequently Asked Questions
MBBS = Bachelor of Medicine, Bachelor of Surgery
FMGE = Foreign Medical Graduate Examination
MCI = Medical Council of India
NMC (India) = National Medical Commission
N.M.C (Nepal) = Nepal Medical Council
BMDC = Bangladesh Medical and Dental Council
DGHS Bangladesh = Directorate General of Health Services
WHO = World Health Organization
WFME = World Federation for Medical Education
FAIMER= Foundation for Advancement of International Medical Education and Research.
IMED = International Medical Education Directory
For any quarry-related MBBS/BDS/MD admission in Bangladesh contact us: Smile Education
Note:
Some information we collect from Various News agencies, Twitter, Facebook, and HC Bangladesh websites even mention source website links also. Our Aim is only to provide authentic information to our student/parents community.
For more information Available visit :
Smile Education​ (Authorised)
Helpline: 9903-033-033
Skype: mbbsinbd
Phone: 091633-22022
Whatsapp/Call: 988312-3838
Dial: 0903864-3838, 0983126-3838
Phone +(91)-33-7965 8170
Fax: 2416 6974
Office Address
Smile Education Consultancy​
(Search in Google Map)
B-265, Survey Park Santoshpur (1st Floor)
(Near Kishore Bharati Stadium, Survey Park Kali Mandir)
Jadavpur (10 min KPC Medical College and Hospital)
Kolkata – 75
Zip- 700075
West Bengal, India
| | |
| --- | --- |
| Monday | 9:30 AM - 7:30 PM |
| Tuesday | 9:30 AM - 7:30 PM |
| Wednesday | 9:30 AM - 7:30 PM |
| Thursday | 9:30 AM - 7:30 PM |
| Friday | 9:30 AM - 7:30 PM |
| Saturday | 9:30 AM - 2:30 PM |
| Sunday | Closed |
FAQs Frequently Asked Questions for MBBS in Bangladesh for Indian Students
MBBS Study Abroad best country with Lowest fees Bangladesh
Medical Study in Bangladesh best option for Indian Students seeking MBBS Admission with an affordable budget.
Eligibility for MBBS in Bangladesh
Bangladesh Medical and Dental Council Link
List of Affiliated Colleges & Institutions of the University of Rajshahi Bangladesh
Find a List of Dental colleges in Bangladesh
List of Private Medical Colleges in Bangladesh
Bangladesh Medical College Fee Structure 2022-23
Why MBBS/BDS in Bangladesh?
FAQ (Frequently Asked Questions) for MBBS in Bangladesh
Find FAQs Undergraduate Medical Admissions in Bangladesh
Study in Bangladesh
Eligibility for MBBS in Bangladesh
Bangladesh Medical and Dental Council
List of Affiliated Colleges & Institutions of the University of Rajshahi Bangladesh
Get a List of medical and dental colleges in Bangladesh
List of Private Medical Colleges in Bangladesh
Bangladesh Medical College Fee Structure 2023-24
Why MBBS/BDS in Bangladesh?
FAQ (Frequently Asked Questions) for MBBS in Bangladesh
MBBS Course in Bangladesh
Smile Education top MBBS Admission Services provider in Bangladesh
Our Services
Education Loans
Contact us